1959 -2002: About Kent unit 1959 -2002
●Ford Kent Pre Crossflow -- Original --
1959 〜 1968
1.0 〜 1.5L

Anglia 105E, 109E

Consul Capri

Cortina Mk.1

This engine is easily determined from the Ford 'Crossflow' by the type of head since the carburettor and the exhaust are both on the right hand side of the engine.

The Pre-X/Flow, first fitted to the 107E Prefect and 105E Anglia in 1959, replaced the previous side-valve units and was initially available in sizes, 997, 1198, 1340 and eventually 1498cc.

The small capacity engines - up to 1340cc had a three-bearing crank, whereas the 1500 introduced in the Cortina (including the GT) had a five-bearing crank.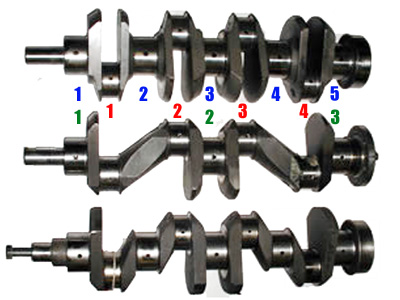 Std 77.60 mm stroke X Flow/BD - 12 Bolt
Formula Junior - rope seal 10 u/s maine 20 u/s big end
BDJ 53 mm Std - Narrow Journal 6 Bolt
The 1500 Pre-X/Flow provided the base for the Lotus Twin Cam, where selected blocks were bored to larger capacity. The Mk2 Cortina saw the L-block, which is cast with thicker walls and is ideal for large capacity Pre-X/Flows - it's quite rare now though!


●Lotus Twin Cam
1962 〜 1975
1.6 L

Lotus Elan

Cortina

Europa

Ford Escort

Caterham Super Seven

Lotus required a low cost, compact, yet powerful engine for the 1962 Lotus Elan. Colin Chapman chose to use the 116E thin wall cast iron block first used by Ford in the Consul Classic, the Classic Capri and later to be used in the Cortina.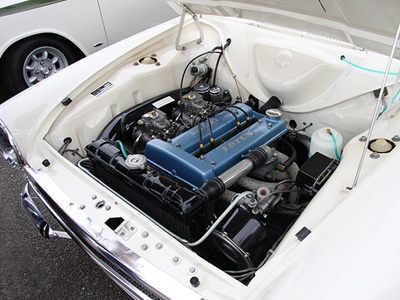 While the basic engine design was relatively sound, being of 5 main bearing construction, it was by no means a performance engine. To achieve the power required, Chapman commissioned Harry Mundy, then technical editor for Autocar magazine, to design a double overhead camshaft conversion. This comprised an aluminium cylinder head and an aluminium front cover assembly containing the water pump and the chain driven camshaft drive.

In its initial evolution the engine had a cubic capacity of 1498 cc and produced approximately 100 bhp (75 kW). After approximately 50 engines had been produced (only 22 engines of this initial specification made their way into roadgoing Elans, the rest being used in the Lotus 23) the specification was changed so the engine had a 0.060" larger bore dimension as standard thereby increasing the cubic capacity to 1558 cc. This enabled an overbore of 0.040" permitted by the FIA regulations would still mean a cubic capacity below the new 1600 cc FIA class limit.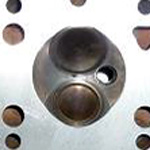 The cylinder head has hemispherical combustion chambers similar to that first used by Peugeot on their 1912 Grand Prix car and subsequently refined by Jaguar in their XK engine of the 1950s

Valve sizes used are 1.530" diameter inlet and 1.325" diameter exhaust on all engines except the "big valve" Elan Sprint and Lotus Europa models which have an inlet valve measuring 1.565" diameter.


●Ford Kent Crossflow -- Heron head combustion chamber --
1967 〜 1980
1.1 L, 1.3 L, 1.6 L

Cortina Mk.2
Capri Mk.1
Escort Mk.1 & Mk.2
Ford Fiesta Mk.1 (1.6 versions)
Reliant Anadol (1.3 and 1.6 versions)
This engine was introduced in the Ford Mk2 Cortina and differs from the earlier units by having the carb on the left and the exhaust on the right - hence, 'crossflow.'

They also varied from Pre-X/Flows in that the combustion chamber was shifted from the head to the bowl of the piston and were know as Heron engines (or BIP = Bowl In Piston). Early heads also feature a small combustion chamber in the head.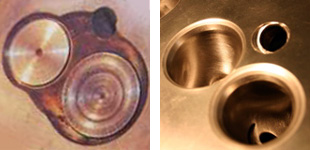 LH: early head / RH: late head
Early blocks bore the casting marks 681F and capacities you'll find are, 940, 1098, 1298 and 1599.

You'll find a X/Flow fitted to Mk1/2 Escorts, Mk2/3 Cortinas, Mk1/2 Capris plus late Transits. Most cars came with a single choke Ford IV carb although the 1.3 and 1.6 GT models had a 32/36 DGV Weber twin choke.

1970 saw the big change to the thicker-walled 711M block with square mains caps, large diameter followers, wider cam lobes and modified crank seal. Also, the head was now completely flat.

There are two main capacities of 711M, determined by block height - the 1600 is 7/16" taller and you can see the difference between it and the 1300 by the space between the water pump and head. Also, the 1300 has 711M 6015 AA cast in the side whereas the 1600 ends in BA.



A711 (LH) & A711M (RH) block
The engine was also fitted to 1.3 and 1.6 Mk1 Fiestas in the 80's with a 771M casting. These feature no side engine mounts plus a shortened water pump and timing chain/crank area.

The final versions, OHV, HCS and Endura are similar but shorter versions and share very few if any inter-changeable parts and reverted back to the original pre-X/flow design of a three bearing crank.


●Ford Cosworth BDA / BDG
1969 〜 198?
1.6 L

Escort RS1600
Caterham Super Seven
Originally conceived by Mike Hall (Cosworth Engineering) as a belt driven version of Cosworth's FVA power plant, this engine is based on the Ford 1600 X/Flow bottom end.

It made its first appearance in the Mk1 Escort in 1970 and replaced the Lotus twin cam engine as the new high performance engine for the Ford Rally Sport models. During the early seventies Brian Hart (amongst many others) developed this engine further and his 87mm big bore alloy block version, giving an increased capacity to 1840cc, was eventually adopted by Ford and used to power the later RS1800 Escort.

The BDA and all its derivatives went on to dominate the motorsport scene and even today, 30 years on, it is still providing many winning cars with their power. At least 15 types have been produced ranging from the 1098cc BDJ (150bhp) through to the 2 litre BDTE turbo version (650bhp in full race trim) which was produced with a slightly longer block to improve its structural strength.


●Ford Valencia -- revised to suit front wheel drive installation --
1976 〜 1989
1.0 L, 1.1 L, 1.3 L

Fiesta Mk.1 & Mk.2

Escort Mk.3

Orion

The Valencia was a revised unit basically for use in the Fiesta, used from 1976 to 1988 and available in 0.95, 1.1, 1.3 formats. It was also fitted to Mk3 Escorts and to 1.3 Orions from 1986 onwards.

All engines are basically the same as Kent with the fundamental difference of being shorter so most of the components are not interchangeable. The engines conform to the usual chain driven cam with pushrod operation of the valve train. All cranks runs in 3 bearings with the normal Kent type split bearings, plus interference fit gudgeon pins on the small ends.

Most use either a Weber twin choke TLDM carburettor or, single-point fuel injection.


●HCS -- to meet with tightening European emissions legislation--
1989 〜 1995
1.0L, 1.1 L, 1.3 L

Fiesta Mk.3

Orion Mk.2

Escort Mk3-6

The HCS - High Compression Swirl - version came after the Valencia and was used from 1988-1995 in 1.0, 1.1 and 1.3 sizes, chiefly in the Fiesta Mk3, Orion Mk2 and Escorts from Mk3 to Mk5, all in front wheel drive format.


●Endura-E -- revisions to combat noise and harshness --
1995 〜 2002
1.3 L

Fiesta Mk.4

Ka

The Endura-E is virtually identical to the HCS and was used from 1995-2002 in the Fiesta Mk4 plus the Ka. The only main differences are an alloy sump and variations in the inlet and manifold system. Both are distributorless, using a crank trigger and coil pack for ignition.