A variant of the Ford Essex engine was developed for the Ford Capris raced in Group 2 in the early 1970s. This had a capacity of 3,412 cc, and was highly competitive against the BMW straight-sixes. The GA was also used in the later years of Formula 5000 in Europe.
Maximum Speed: 171 mph

The Norton Challenge was brought down by the failure of NVT. Pictured is one of its few track appearances, with Dave Crockford practicing for the 1976 Imola 200 miles.
---
1989: FBA / 1995: FBC
In 1989 there was the introduction of the DOHC engines, a 2.9 L 24-valve Cosworth V6. The Cosworth Engine has become a choice upgrade for many Ford Sierra owners with many Granadas being broken up to provide these power plants, it became a cheap and easy way to obtain 200+ BHP. Some of these engines have also been turbocharged and versions of the engine ( FBE ) were also used in motorsport.
The FBA known as the BOA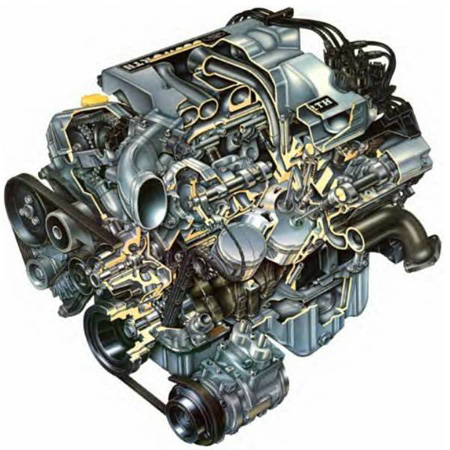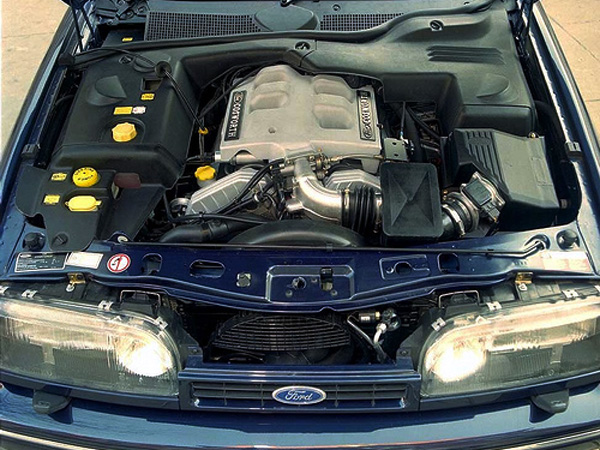 The FBA and FBC engines engines were found in the Ford Granada and Ford Scorpio Ultima. The FBA came first in 1991 also known as the 'BOA', it was based on the Ford Cologne V6 used in the Ford Sierra and Ford Capri and other models and was a twin overhead camshaft 24valve conversion for more power, producing 195 metric horsepower (143 kW; 192 bhp) and better idle quality.

The FBC known as the BOB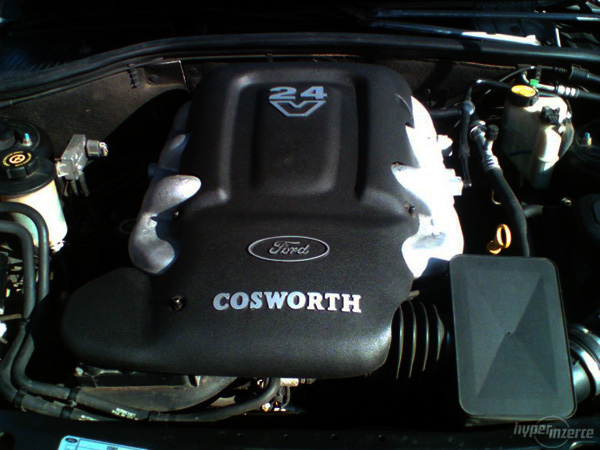 In 1995, with a new version of the Scorpio, it was upgraded with a wider torque spread and higher power - to 204 metric horsepower (150 kW; 201 hp), from a variable intake system and reprofiled cams. The NVH was improved with a change from a single chain to drive all four camshafts - to one chain to drive one bank of cams and a second for the other bank, this engine was known as the 'BOB'.

The FBE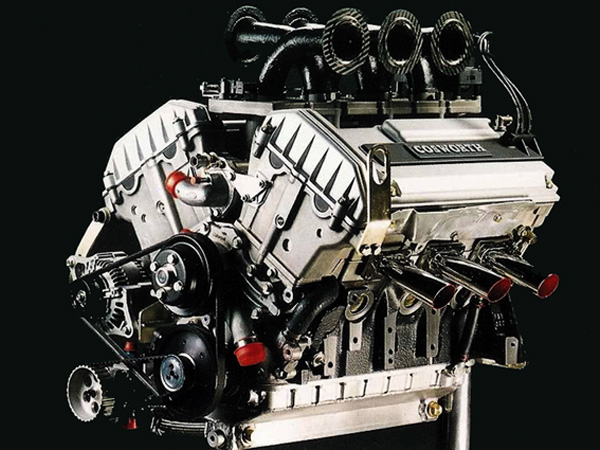 A racing version was also available for a short time - FBE - with individual throttle butterflies for each cylinder.

FBB and FBD engines did exist as development engines but these were never released.

The two production engines were always mated to an automatic gearbox but have become popular in the custom car scene where they have been mated to the 4x4 manual transmission and the rear-wheel-drive manual transmission from the Ford Sierra XR4 and XR4x4.

There are also companies that offer twin and single turbo conversions, and other modifications to increase power to usually around 400 bhp (300 kW). These engines can be bought relatively cheaply and providing they are well serviced, engines have been known to cover over 200,000 miles without major work being required.
---
1992: MBA - V6 street engine designed to comply with the most stringent emissions legislation
Cosworth Engineering has designed and developed a new high performance V6 street engine with a number of technical innovations. Internal Exhaust Gas Recirculation (EGR) control is achieved by combining port and plenum throttling. Port throttling allows long duration cams to achieve high specific power output while still maintaining good part throttle economy and the ability to idle smoothly at 700 rpm. The engine has been designed to comply with the most stringent emissions legislation likely to be imposed. A centrifugal air/oil separator integrated into the balance shaft provides superior Crank Case Ventilation (CCV) performance. Unique cylinder head and cylinder block structures optimise rigidity while reducing engine weight.
---
1993: OG for FORD MONDEO 2L V6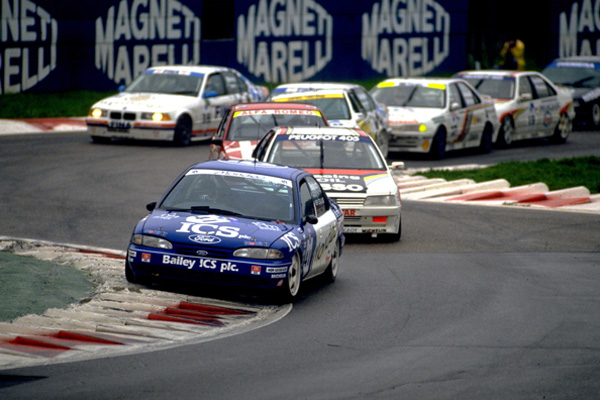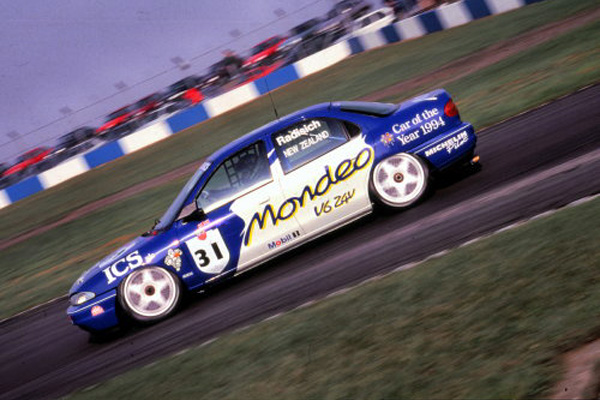 The Cosworth-powered Ford Mondeo winning the FIA World Touring Car Cup titles for Paul Radisich in 1993 (Monza) and 1994 (Donington Park).
---
1993-: KF Opel DTM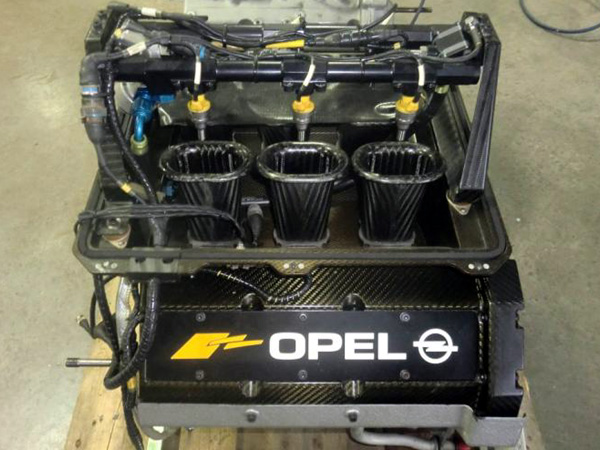 同じGM系列であるいすずビッグホーンにも使用されるの75度V6エンジンをコスワースがチューンナップ。(75度のVバンクはいすずが試作したF1用12気筒エンジンと同一であるが・・・)エンジンは前期(93-95)型の2.5L(420LE)と後期型(95-96)の3.2L (570LE)がある。

All aluminium 75 degrees 2.5L 540 HP / Weighing in at only 89kg / Titanium Valves

A partnership was formed with Opel in the mid 1990's which culminated in winning the DTM International Touring Car Championship in 2006.

The KF is a Cosworth 75 degree V6 2500 cc developed for Opel motorsport.

This is the engine from the Joest Opel Calibra that, driven by Manuel Rueter, won it's debut race and went on to capture both Drivers and Constructors Championship Titles in 1996. It has won the British Hillclimb Championship in the hands of Graeme Wight Jnr and has also seen success in rallying with Andy Burton.

This ex German DTM V6 engine, made by Cosworth for Opel,runs with very unequal firing - 75 degrees, 165 degrees ! The engine uses one coil per plug, almost essential for this level of unequal firing, very high pressure (8 bar) low duty cycle sequential injection producing 485bhp from 2.5 litres at 12,300rpm with mechanical valve springs.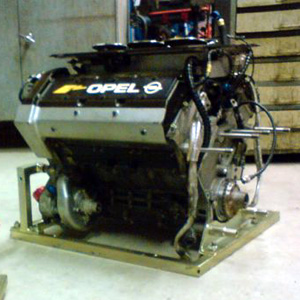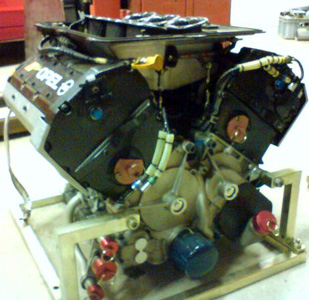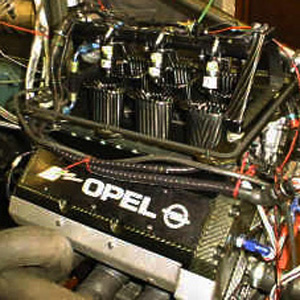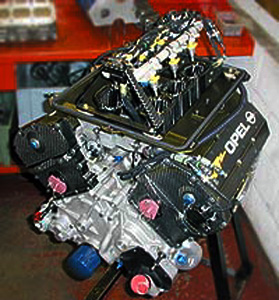 1996 KF 75 degree V6 2500 cc
About DTM/ITC
1984-95: DTM (Deutsche Tourenwagen Meisterschaft)
グループA規定に基づき1984年よりドイツ国内で開催されたツーリングカーレース。その後、各国でのグループA規定競技の衰退の為、1993年よりFIAクラス1規定(2.5リッター)に変更して開催された。1993年以降は、大幅な改造が許され、4WDやトラクションコントロール、ABSなどのハイテク技術が投入され、レースとしての迫力が増し、独自のウェイトハンディ制をレギュレーションに導入するなど、ドイツ国内で絶大な人気を誇った。しかし、FIAの梃入れで、国際レースに格上げとなり、1995年をもって廃止となる。
1995-96: ITC (International Touringcar Championship)
FIAが、1995年より前年まで、DTMとして開催されていたツーリングカーレースを国際イベント化したカテゴリー。初年度のみDTMと両シリーズが存在した。アルファロメオ、メルセデス、オペルの3メーカーがワークスとして参戦。

全レースがITCに一本化された1996年は、圧倒的に強いメーカーがなく激戦となり、結局マニュファクチャーチャンピオン(Opel Calibra V6)、ドライバーズチャンピオン(Manuel Reuter)ともオペルとなる。

1996年をもって、アルファロメオ、オペルが開発費用高騰を理由に撤退を表明。新規参入メーカーもなかった為、わずか2年という短い期間で廃止となる。
2000-: DTM2000
2000年より、メルセデス、オペル、アウディのメーカー間協力の元、Derman Touring Mastersとして復活する。

エンジンは、4000cc V型8気筒 リストリクター装着、シーズン使用数 3基、と規定されるなど過去の開発費高騰を避ける考慮がなされている。

オペルが2005年限りで撤退すると、2006年から2011年までの6年間はメルセデス、アウディの2メーカーによる参戦が続いていたが、2012年より新たなメーカーとしてBMWが復帰する事を表明している。また、アメリカや日本(スーパーGT)に呼びかけ世界規模での統一規格によるレース開催も計画している。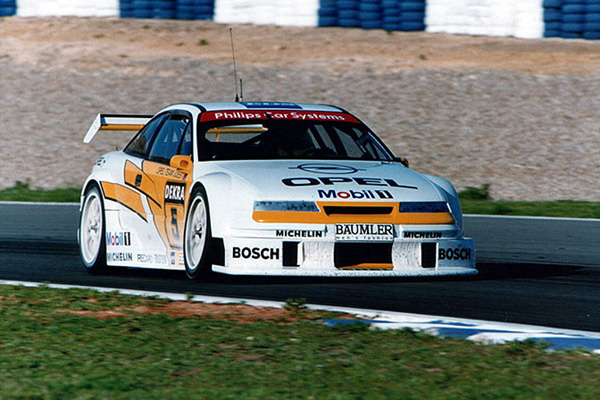 1995 Opel Calibra DTM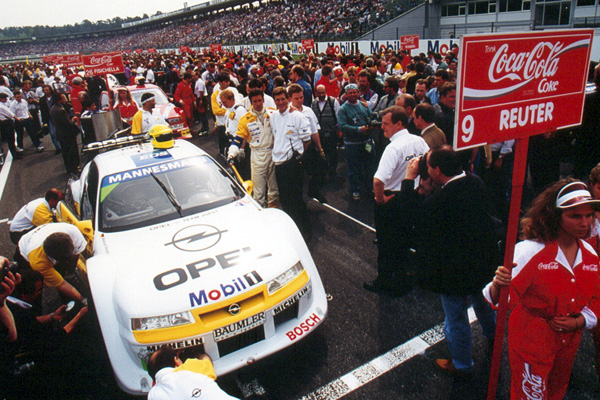 Manuel Reuter at Hockenheim in 1995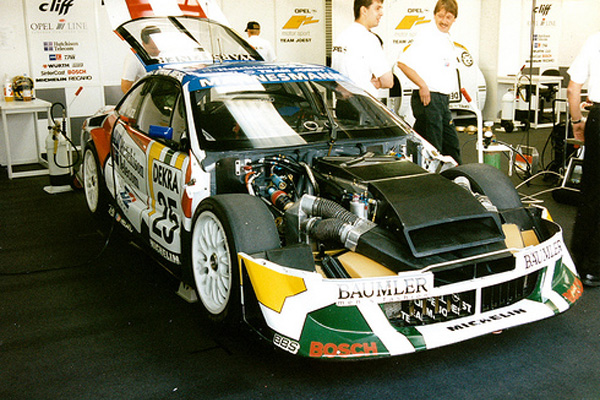 Suzuka in 1996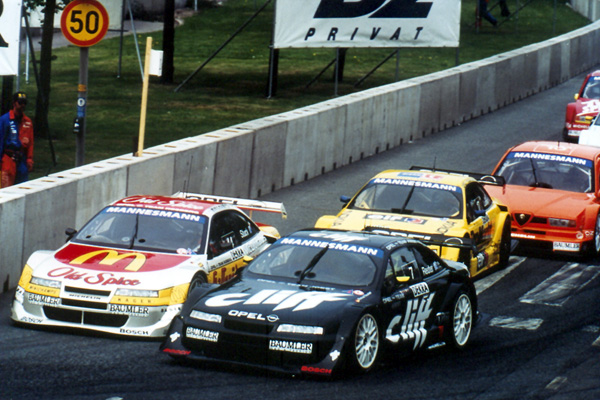 Manuel Reuter(#7) at Helsinki in 1996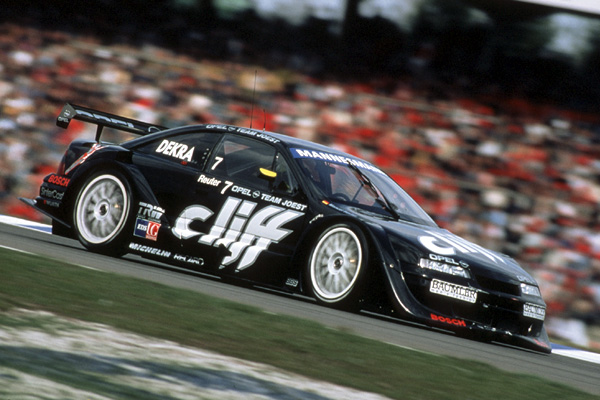 Manuel Reuter at Hockenheim in 1996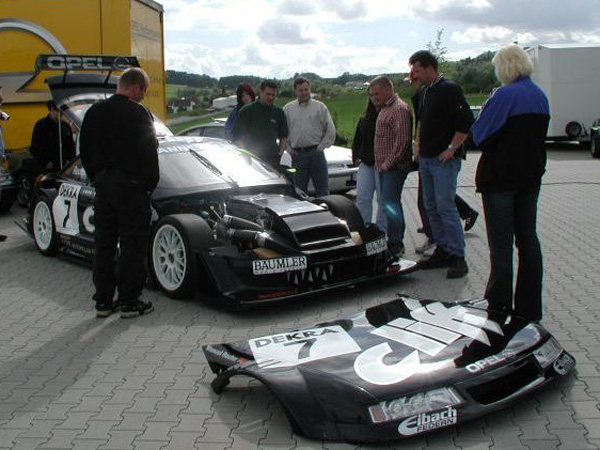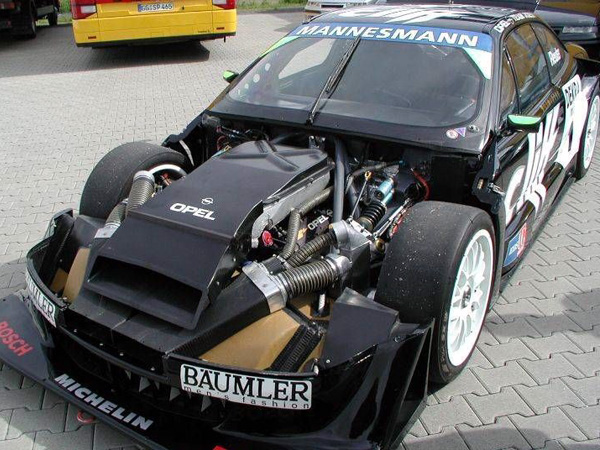 カリブラDTMには実戦に使用されることのなかったカーボンボディ仕様が存在した。開発はザクスピードによる。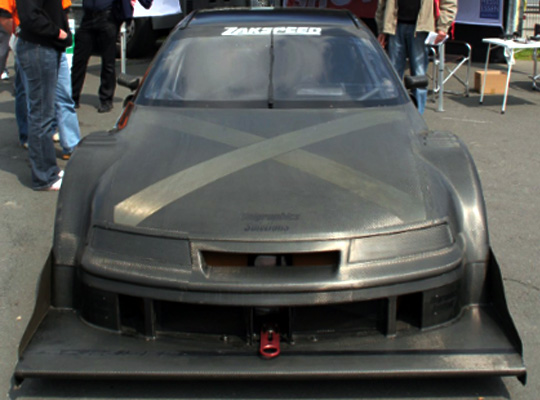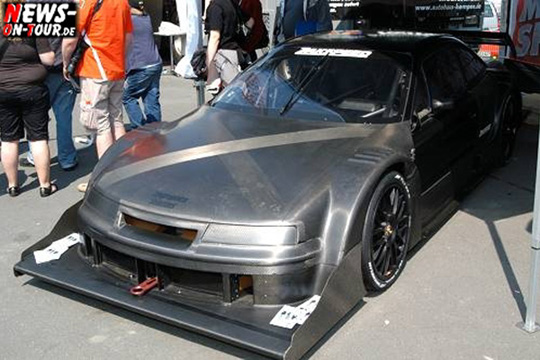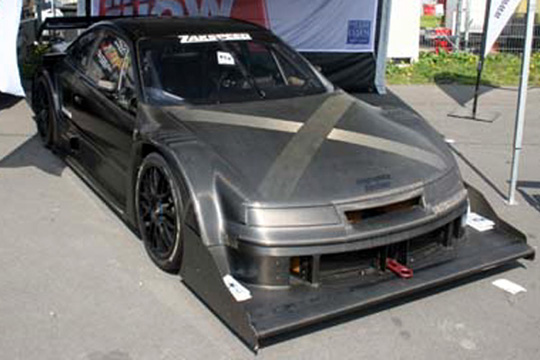 ---
Peugeot Cosworth - Handmade tubular space frame, Peugeot 306 Maxi skins, and Cosworth KF
The most exciting car in British rallying is home built Peugeot Cosworth by the Herefordshire farmer Andy Burton.

It's tubular space framed coverd with Peugeot 306 Maxi ice racer composite body panels, which has 4WD, and a mid-mounted Cosworth KF 2.9 V6 NA engine from an Opel Calibra DTM car.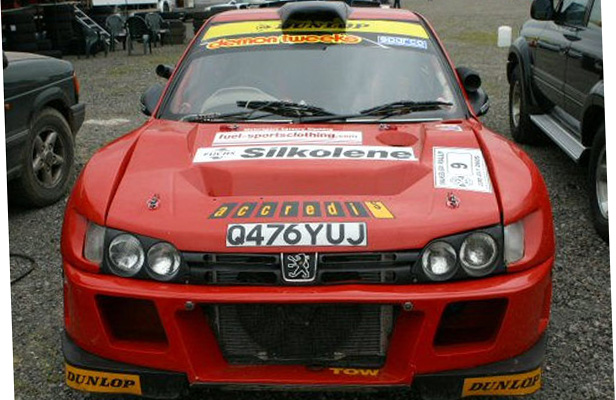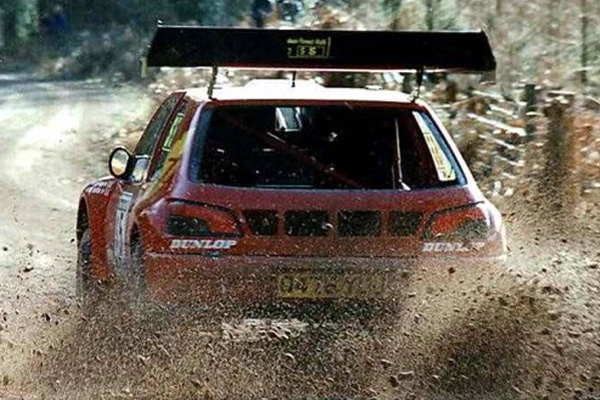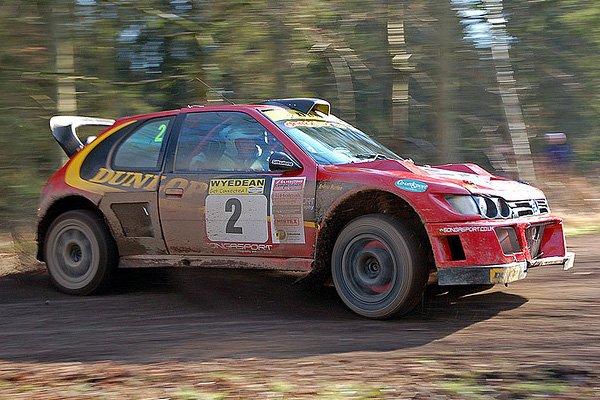 ---
1997: WDA - V10 for Volvo S80: Cancelled
Cosworth built and tested 4,300 cc V10 designated WDA in a Volvo S80, but this did not see production.

Reports on Cosworth Inc.'s development of the V10 road car engine for Volvo. V10 configuration; Features of Cosworth's prototype engines; Cosworth's collaboration with other automakers for the engine.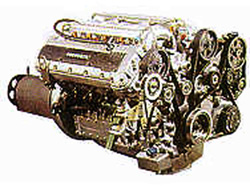 The new Volvo V10
This new luxury car from Volvo, the replacement for the S90 range, will be arriving next year (1998) with a new 325bhp Cosworth engine. The engine is a 4.3 litre unit made entirely of aluminium and it weighs under 200kg. It is mated to a five speed automatic gearbox and gives the car a top speed of 250kph (155mph). There are five prototypes of the new car all made by hand at Torslanda in Sweden which are being tested at night on a test track at Hallerad under the utmost secrecy and two 850's have been fitted with the new engine to test it out in traffic conditions. The car will be bigger than current Volvos, longer, wider and with a large wheelbase and apparently the luggage space is quoted as enormous. "Teknikens varld" reports that the code name for the new flagship Volvo is the P2X. When will it arrive we don't know but V10 power sounds exciting doesn't it? Now I wonder how the engine would perform in a Williams or McClaren with Damon or Michael driving?
---
XH - LMP1 3.6L Twin turbo : Cancelled
XK - LMP2 3.4L NA : Cancelled
For Le Mans Series
Cosworth can offer a competitive package for any of the competition classes, from production based engines through to bespoke LMP engines. Cosworth has two bespoke packages available for further development; the 3.6L 'XH' twin turbo LMP1 and the 3.4L 'XK'normally aspirated LMP2. Cosworth is also perfectly placed to take advantage of favourable rules for production based diesel and gasoline engines.

Programme management of Cosworth's stillborn 'XH' LMP1 engine
Responsible for defining project proposal, performance updates, chassis installation and dyno test schedule.
Programme cancelled when primary team lost key sponsor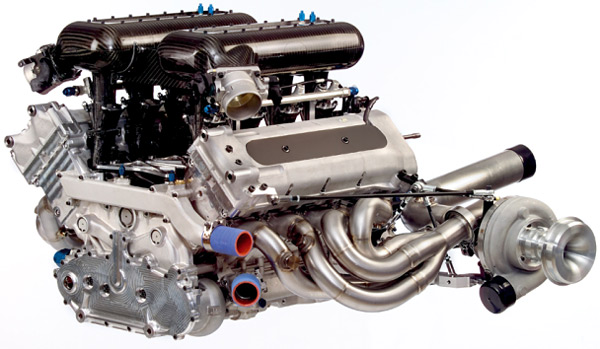 ---
1999 - 2003: SGA - Aston Martin DB7 V12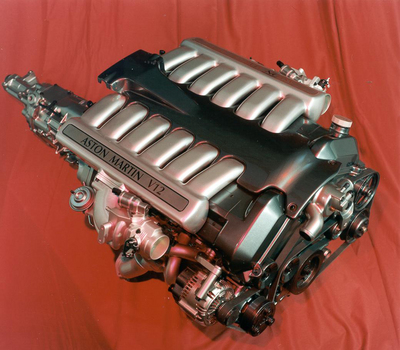 The 6.0 litre, 48 valve, 60 degrees V12
Following the sale of Audi in 1998, Cosworth was divided into Cosworth Technology and Cosworth Racing. Cosworth Technology, which continues to include engines for Aston Martin (before the relocation to Cologne ), Audi RS4 (B5) and Ford Focus SVT builds.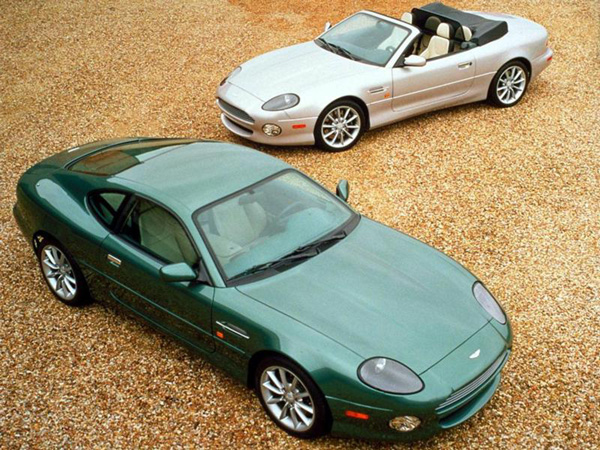 At long last, after a wait of six years, the Vantage version of the DB7 was unveiled at the 1999 Geneva Motor Show. Up until then, the Vantage derivative of an Aston Martin car has featured a tuned version of the standard engine; for the first time ever, the DB7 Vantage had a brand new engine and was significantly different from the i6 car. And what an engine - 6.0 litres of it - the first ever production Aston Martin to be fitted with a V12.
The 6.0 litre, 48 valve, all-alloy, 60 degrees V12 engine delivers 420 bhp and 400lbs ft of torque. Developed in close co-operation with the Ford Research and Vehicle Technology Group and Cosworth Technology, the V12 was designed to operate at a maximum speed of 7000rpm, features four valves per cylinder, twin overhead camshafts for each bank of cylinders and a sophisticated Visteon electronic management system.
---
Audi RS
Audiは1993年より、BMWではMに相当するハイパフォーマンスシリーズとして、自社のスポーツモデルSをさらにチューアップしたRSシリーズを展開している。

最初のRSであるRS2 (1993-95)は、ポルシェがエンジンおよび車体のチューニング、さらに車両の生産までを行ったが、VWグループがコスワースの生産車部門であるコスワース・テクノロジー(CT)を所有していた1998年から2004年までの間に生産されたRSシリーズにおいては、エンジンチューニングをコスワースに担当させている。

その期間に世に出たRSは2作目、3作目となるRS4とRS6である。(コスワースはマーレーに売却され、マーレーンエンジン部門、マーレーパワートレインとなるが、その後、RSにかかわっているかは不明)
2000-2002: Audi RS4 (B5)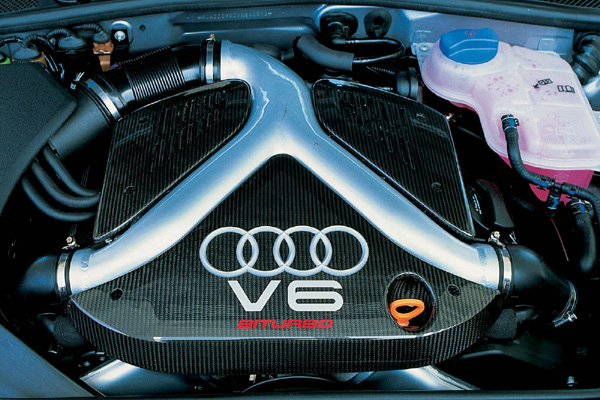 A4のスポーツモデルであるS4アバント(=ワゴンの設定のみ)を、アウディの子会社であるquattro GmbHがチューニング。ホワイトボディがAUDI本社からquattro GmbHに納入され、車両組立はすべてquattro GmbH内で行われる体制。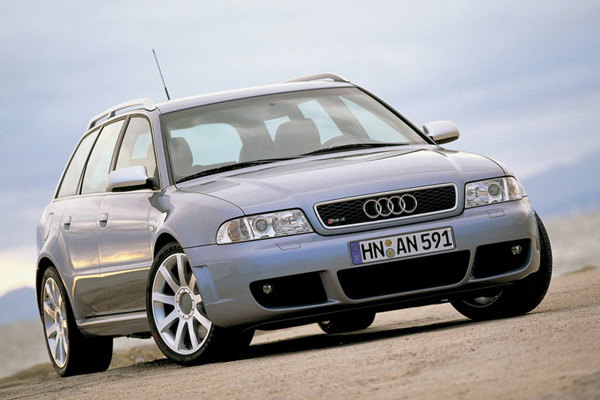 ベースとなるS4の排気量と変わらない2.7リッターV6DOHC5バルブツインターボのパワーユニットは、コスワース・テクノロジー社製シリンダーヘッドや大径ターボチャージャーの採用などによって、S4の265ps/40.8kgfmから385ps/44.9kgfmまで最高出力/トルクを向上させている。これに6速MTの変速機と4WDの駆動系が組み合わされる。
2002-2004: RS6 (C5)
A6のスポーツモデルであるS6を、アウディの子会社であるquattro GmbHがチューニング。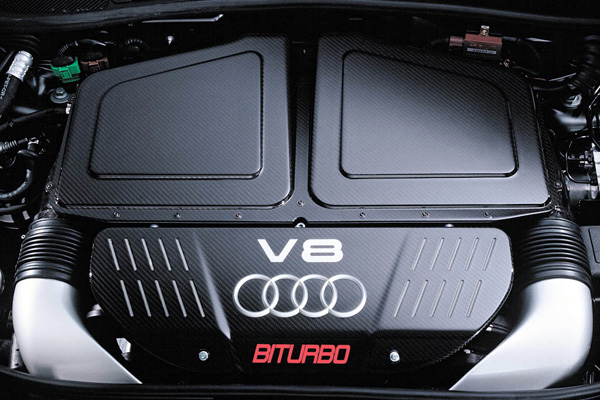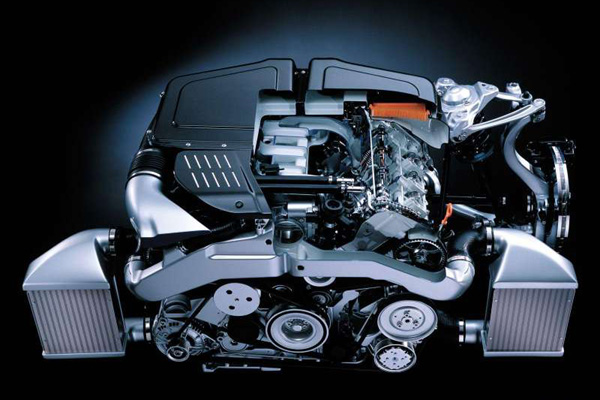 4,172ccのV8ツインターボのパワーユニットの設計・組立は英コスワーステクノロジー社が担当し、ヘッドにはアウディ得意の5バルブが使われる。最高出力/トルクは、450ps/57.1kgfmを発揮する。これに5速ATの変速機と4WDの駆動系が組み合わされる。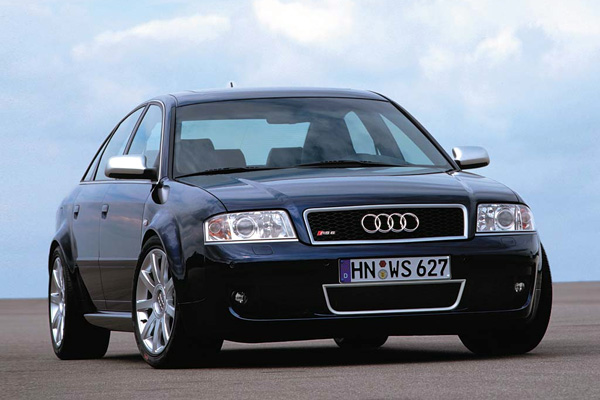 ---
2008: AE - Small engines for UAVs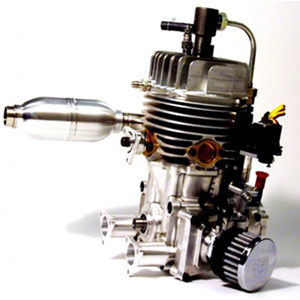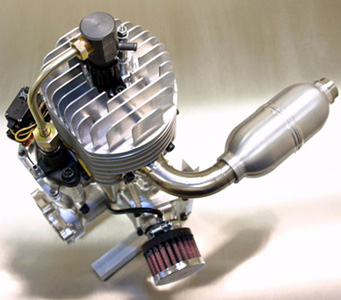 Cosworth's multi-fuel, single-cylinder UAV engine uses port and reed-valve induction.
Its AE engine has been designed for both civil and military UAV applications. It is an 80-cm3, single-cylinder direct-injection compression-ignition, all-aluminum alloy unit, using port and reed-valve induction.

Cosworth has designed it to run on multifuels including JP5, JP8, DF1, and DF2. outsis, said the AE power unit had been designed to deliver improved fuel efficiency at high altitudes where low temperatures make the achievement of optimum performance very difficult.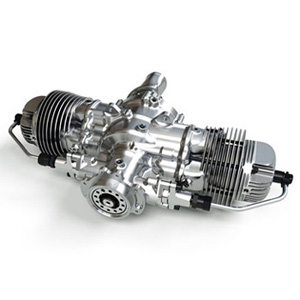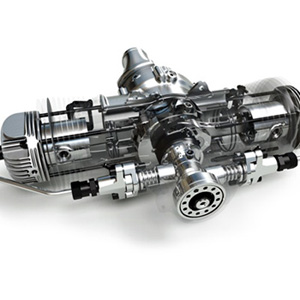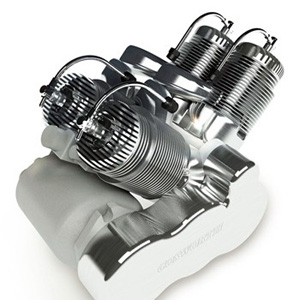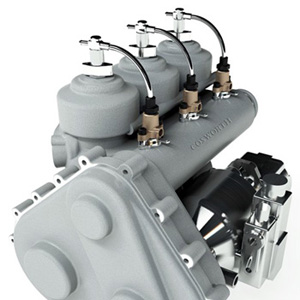 Lightweight Heavy Fuel Engines (HFE)
Our Heavy Fuel Engine (HFE) products use patented 2-stroke compression ignition technology to deliver maximum power-to-weight and best-in-class fuel efficiency for propulsion, electric and hydraulic power generation.

Developed for Unmanned Systems
Cosworth's Heavy Fuel Engine (HFE) products were developed from the ground up for a variety of unmanned system requirements, ranging from propulsion to electric and hydraulic power generation.

Patented 2-stroke heavy fuel, compression ignition technology is used to deliver the highest achievable power-to-weight ratio combined with best-in-class fuel efficiency and tolerance.

Cosworth's HFE products can be air-cooled or water-cooled and can use mechanical or electronic fuel injection. A wide range of outputs are available by scaling engine confi gurations from 1 to 6 cylinders to produce anything from 3hp to 60hp.

Using our design experience and lightweight materials, we have achieved unrivalled power-to-weight ratios for heavy fuel engines. For example: our 2 cylinder, 13hp UAV engine weighs in at 16.5lb (7.5kg).